Do you have stone inventory? Cabinetry? Sinks? Caulking and shims for installers? Garnet for your waterjet?
Regardless of the type of inventory your company stocks, if you want to track it, we provide the capability. Stoneapp Creates Purchase Orders, Receives Inventory, allocates by location, and is fully synchronized with Inventory & Warehouse. Creating Sales Orders or Invoices has never been so easy with a direct connection to your inventory. Automation and paperless accounts payables we integrate with QuickBooks.
Print Barcodes
Once the stock is received, you can print barcodes and apply directly to the stock. The serialized inventory will have its stock number compared to non-serialized inventory like sinks where the same SKU is used and will give a quantity. And also Stone App has capable to Sync bills & bill payments to Quickbooks.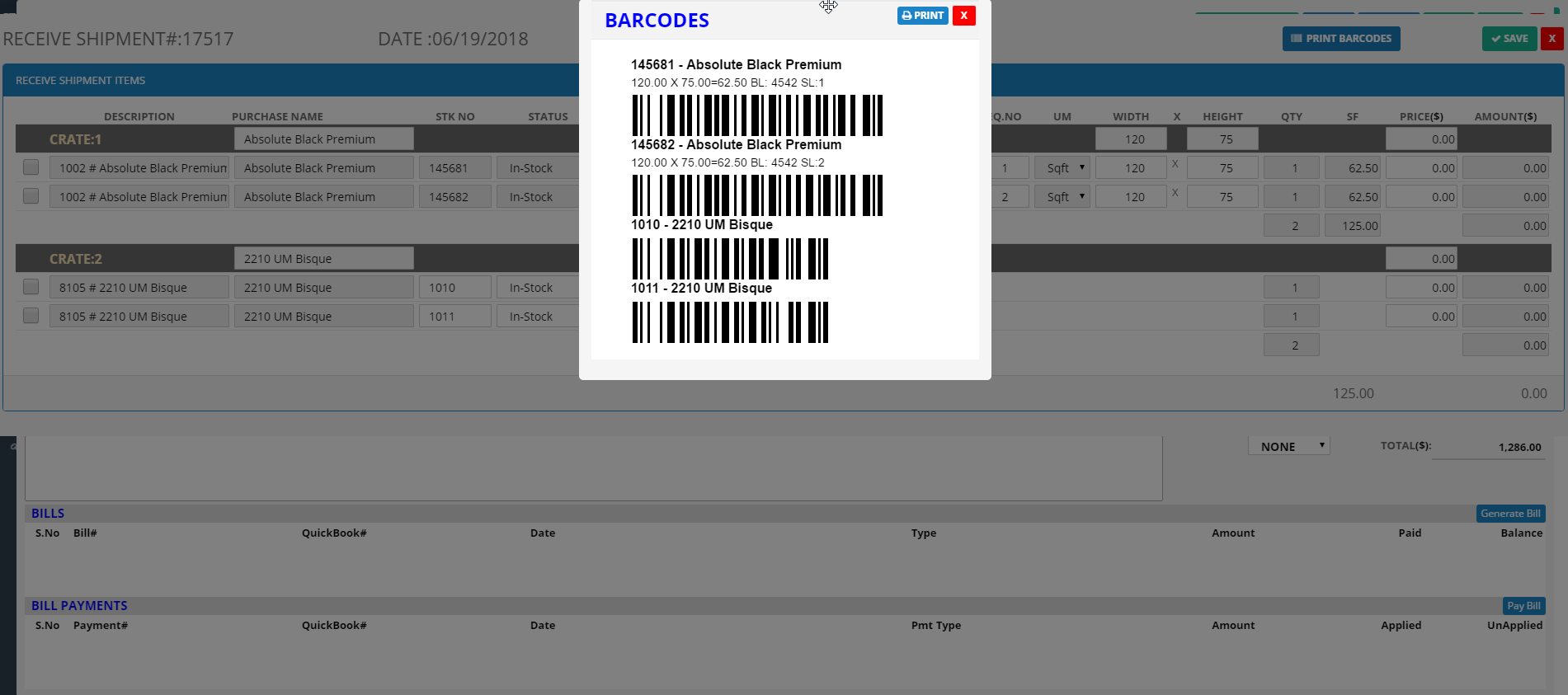 One Partner To Help Your Fabrication Business Thrive
Whether you are small, medium, or large fabricator our solutions scale to fit your needs.
Get Started
"Tracking when we order and receive materials. Helps with communicating between office ordering and shop receiving."

Bob Slusser

Carved In Stone - Project Estimator
"POs can be created directly from the job with an anticipated arrival date. If the material doesn't get received at the time it's supposed to, the system will alert you. Where in our previous system if the material didn't show up it would just get forgotten about until the customer called complaining that they haven't heard from anyone to schedule."

Alyssa Fair

Hard Rock Stone Works - Sales Manager
"The inventory process starts here and it all ties well with assigning inventory items to jobs under project management. We added all our stone inventory, sinks, consumables, etc. Having the ability to issue POs for all these has helped us be more organized from start to finish."

Josh Rubink

Spaulding Stone - Controller
"Prior to using StoneApp, we did not track PO's in a any way. Someone would call and order material and when it arrived we had no way to confirm what we were quoted and just wrote blind checks. Now that we use Purchase Management, we have caught many delivery invoices that were over $100 off. This has probably saved us thousands of dollars by being able to clearly see the amounts quoted by the supplier and confirming all slab information when it is being received."

Jason

Stone Resources - Manager
"The fact that our Material POs are fully integrate into our inventory tracking and Job Costing allows us to maximize our yields. It is easy to use and features like the re-order thresholds and quick email to distributor makes purchasing materials very efficient."

Aaron Moore

Stoneworks LTD – North Carolina - General Manager